Our partners
In January 1987, Paul Bocuse created the Bocuse d'Or, a revolutionary gastronomy contest. Replicating the codes of major sporting events, he imagined a true show placing the emphasis on cooking and on the chefs.
The idea: bring together 24 young chefs from all over the world, among the most promising talents of their generation, and have them prepare superb dishes within 5 hours 35 minutes, live in front of an enthusiastic audience. To tell them apart, a jury composed of the most illustrious chefs of the planet.
Beyond a mere cooking contest, the Bocuse d'Or is a show that draws extraordinary media coverage. Many talented chefs have made a name for themselves thanks to the contest, and have promoted their own culinary heritage.
The next Bocuse d'Or grande finale will take place on 26th and 27th January 2021 in Lyon, during Sirha 2021 Trade Show.
Association Maîtres Cuisiniers de France
Founded in 1951 by Armand Froissand, today Maitres cuisiniers de France is today chaired by Christian Tetedoie. Members are only etablished cooks who are committed for promoting the French culinary arts.
The aim of France's master chefs is to preserve and develop the art of cooking (ou culinary art) to transmit their know-how to future generations.They promote products of highest quality and European quality.
Gault&Millau was founded in 60's by Henri Gault. It became a guide in 1972. This guide includes the best cooking adresses of France.
DE BUYER is a partner of the following events : Gault&Millau Tour and Gault&Millau Jeunes Talents.
Gault&Milau Tour allows putting six regions of France under the spotlight by rewarding the most talented chefs and highlighting their restaurant, cuisine, service and know-how.
Gault&Millau Jeunes Talents is award in material and raw materials awarded to the most talented chefs so they can open their own restaurants.
Since its inception, DUCASSE Education contributes to the transmission of the French know-how in culinary and pastry arts.Today, they are a leading global network of schools, where passion and devotion to the art of hospitality underscore a rich history of exceptional standards, forged through decades of practice and experience.
With 3 schools in France, DUCASSE Education benefits from multiple exceptional expertise.
Located in Argenteuil, the Centre de Formation Alain Ducasse is specialized in culinary arts while the Ecole Nationale Supérieure de Patisserie, based in Yssingeaux, has been devoted to pastry, bakery, chocolate, confectionery, and ice cream arts, for over thirty years.
Finally, at the heart of Paris, the Ecole de Cuisine Alain Ducasse is aimed at passionate amateurs and companies looking for exclusive events.
Founded in 1986 upon the initiative of Paul BOCUSE, Euro-Toques is an association of chefs officially recognised by the European Commission. It operates to ensure that culinary heritage and food are preserved in European institutions.
In France, the 250 Euro-Toques chefs rally to guarantee consumers fresh, seasonal produce and the processing of these products on site.
Euro-Toques is headed by Didier Peschard.
At Euro-Toques our lobby are the products!
De Buyer is the inevitable partner for this cook emissions and escort chef and cook amateurs in his cook aventures.
TV cooking shows such as : le Meilleur Pâtissier, le Meilleur Pâtissier professionnel, Norbert commis d'office, Toque show and les Rois du Gâteau broadcasted on the T-V channel M6, are equipped with de Buyer utensils.
Championnat de France du Dessert
Championship de France du Dessert was founded in 1974 by CEDUS (center for study and documentation about sugar) in collaboration with national education and hotel industry and catering professionnals. It involves 2 categories of candidates: juniors and professionnals. 
This championship allow the distinction of bakery highest while encourage the bakery practice.
Welcome Gourmets!
The school for gourmets
People learn how to cook in a relaxed atmosphere: simple gestures, chef's tips, little secrets for successful dishes, whatever they may be : big or small, eggs, fish, sauces, foie gras. All these dishes are wonderful opportunities to master techniques and recipes. Fairly easy with Geneviève Lenain!
With all her diplomas, including some from the Ecole Ferrandi, this chef has built her career by working for prestigious caterers: Flo Prestige, Potel & Chabot, Rosell… and she opened her school 9 years ago in an authentic and gourmet neighbourhood, not far from Marché d'Aligre…
Agence du Don en Nature, a recognised general interest association that fights exclusion and waste, collects new non-food products from companies, stores them and gives them back to the poor through local associations (500 partner organisations fighting against exclusion and poverty in France). Our credo: "Less waste, more sharing".
The Masterclass is planned for 12 people in a formula of 3 hours. With my chefs, we discover variations on a choice of dessert: iconic, traditional, modern, French or from another country around the world. Without forgetting my best recipes, according to the season, places I have visited, people I have met... I'll look forward to welcoming you in my home to spend a pleasant time together.
The roots of Elle & Vire are in Normandy (France), an outstanding region renowned offering an international level of quality for its pasture and milk.
Since 1947, between the rivers Elle and Vire, the company has been producing high quality dairy products with an authentic taste, the technical characteristics of which meet the needs of the most demanding chefs and contribute to the well-being of consumers.
Operating in more than 120 countries worldwide, the brand offers a varied range of products, such as cream, butter, desserts, cheese and milk.
Club Gastronomique Prosper Montagné
The Prosper Montagné Gourmet Club is the only club including professionals working in the catering trade and gastronomes as well.
The purpose of our association is to continue the work of Prosper Montagné, chef, writer and inventor of the 'Cuisines Roulantes', horse-drawn camp kitchens for soldiers in the 1st World War (these kitchens meant that infantryman could have a hot meal during the battles).
We want to preserve the transmission of knowledge to the younger generations, and the values ​​of French expertise as well.
The Club has been holding a cooking competition since 1950 and some of the winners went on with an extraordinary careers. Joël Robuchon, Guy Legay, Marc Marchand…, the competition for the Best Seafood specialist – the Léon Beyer Award is held every year at the Coupole in Paris.
A competition devoted to cold pork meat was created in 2014.
Prosper Montagné's saying that "You can only do something good with something very good" is always a leitmotiv for us and our members.
Cifhor - International Training Centre for Hospitality and Restoration
CIFHOR (International Training Centre for Hospitality and Catering) is a young structure the ambition of which is to share the most recent advanced training in French culinary culture with professional and passionate cooks.
Its offer consists in:
A unique combination of an educational digital platform for education and face to face sessions.
A team of high-level trainers, several of them being awarded with the prestigious Meilleur Ouvrier de France title.
A national and international network
World-class facilities in the Strasbourg, Paris and Nice areas: Catering, classrooms, bar, application restaurant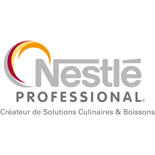 Within the NESTLÉ group, NESTLÉ PROFESSIONAL is a dedicated organization, which is focused on developing & implementing Out Of Home Food and Beverage Solutions.
Relying on strong brands such as CHEF®, MAGGI®, NESTLÉ Docello™ and NESCAFÉ®, NESTLÉ PROFESSIONAL provides, beyond product quality, creative and concrete solutions to Professionals in order to help them innovate and satisfy their guests.