Our commitments
In april 2018, de Buyer has become the first and only French company in the culinary sector to receive the "Corporate Social Responsibility (CS) commitment label - Confirmed level".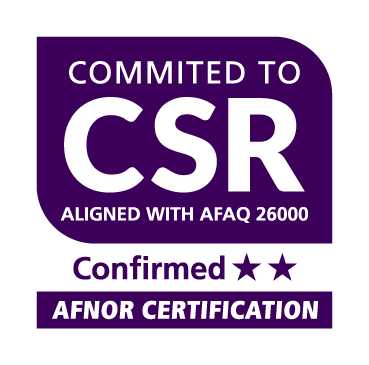 A year ago, De Buyer called upon AFNOR, an international reference for labeling, in order to have its CSR level assessed. Today, this assessment has become a major asset for many French companies and a reference point for the ethical consumer. It demonstrates the desire to be transparent about social and environmental practices.
De Buyer, specialist in cooking and pastry utensils, has become the first and only player in the culinary sector to hold a "CSR commitment label – Confirmed level" * after its first assessment.
This recognition emphasises De Buyer's DNA:
to preserve artisanal traditions existing since 1830 whilst also being a visionary company. It also validates the pre-existing actions taken by the company:
The quality and durability of the products.
An HR policy based on well-being at work.
Territorial anchorage through investing 7.3 million euros in the last 5 years to create permanent and modern premises (based in the Val d'Ajol region since 1830).
An international presence resulting in exports representing 50% of turnover.
Installation of its own industrial water treatment plant as an environmental initiative.
A circular economy approach with the reintegration of recycled materials in the manufacturing process.
Installation of four beehives on a natural land close to the company.
"Our unique selling point is clearly the quality of our materials and a well-thought out design.
For us, it is also the respect for the person who manufactures the product and the way in which it is made."