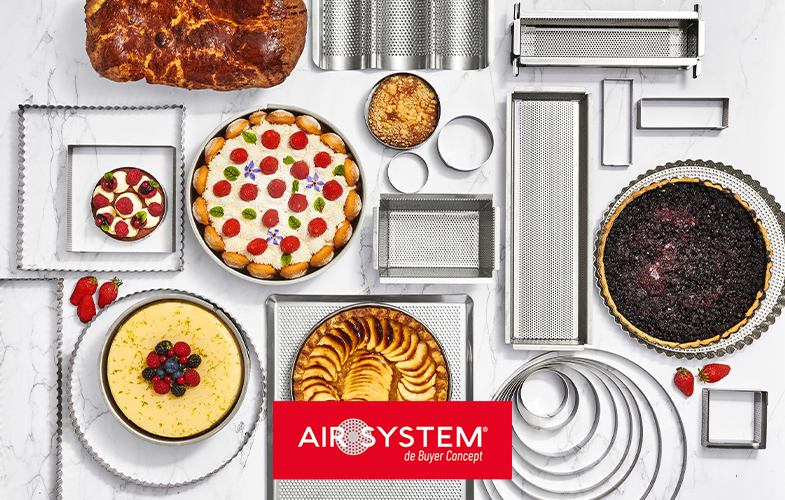 At de Buyer, high-quality materials are at the heart of everything we do, and we strive to provide you with products and utensils that will get you the best cooking results for each of your recipes.
Our rings, molds and baking trays with the Air System Concept show our determination to bring you products made with a groundbreaking technology that meet all your needs.
What is the Air System concept ?
Ideal for cooking and baking, micro-perforations improve air circulation in the oven, promote fast and even cooking and make your dishes crispy but not dry every single time, for tasty results and a flawless finish.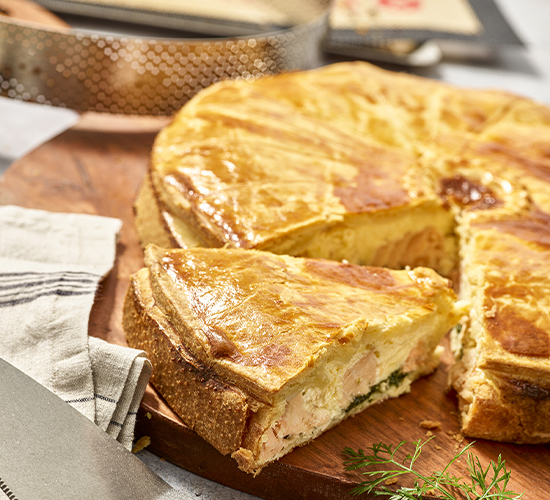 Collections using AIR SYSTEM
The AIR SYSTEM Concept is available on multiples products. Discover the products that use it.
Stainless steel tart rings
Designed in partnership with "l'Ecole Valrhona", theses rings have ø 2 mm perforations, to ensure pie crusts bake evenly. 
Thanks to the straight edges, small cakes and larger desserts look perfect and are easy and safe to unmold.
They are a must-have for making puff pastry, shortcrust pastry and sweet pastry crust
AIR-SYSTEM perforated stainless steel pastry rings are available in:
- Smooth edges: for pies with a pure design
- Fluted edges: for generous pies and tarts
- Round-off edges: for "Tradition" pies
Our AIR SYSTEM baking tart rings
Stainless steel mold GEOFORME
In partnership with Fabien Pairon, "MOF Charcutier traiteur", (Best Craftsman of France Butcher-Caterer), we developed the first foldable mold with attached hinges.
An ALL-IN-ONE heavy duty product with attached hinges and latches. This perforated mold cooks pastries faster and more evenly, without drying the inside thanks to the AIR SYSTEM concept. For tasty and crispy pies!
FAST & CONVENIENT: when unfolded, the mold is flat and stable and can be used as a template to cut your pastry.
Easy to unmold. Easy to maintain.
Recipe ideas with or without baking paper
Without
Pâtés en croûte
Plain or special breads
Vegetable or fruit pies
Brioche sausage rolls
Meat or fish in puff pastry
With
Marble cakes
Pound cakes
Sweet or savory cakes
Butter brioche
Meatloaf or fishloaf
Vegetable loaf
Gingerbread
Our GEOFORME AIR SYSTEM molds
Moulds with removable bottom
Heavy-duty, it can be used a lot.
Hot or cold use with no temperature limit.
AIR SYSTEM concept, with ø 2 mm perforations that release excess air bubble from pastry.
Cook faster and more evenly, without drying the inside :
• For crispy and tasty results
• For sharp edges and a flawless finish
Your pie crust holds its shape and isn't overcooked. Your cakes and pies are cooked to the middle. Removable bottom: easier to unmold and clean.
Our molds with removable bottom AIR SYSTEM
The ø 3 mm perforations help release excess air bubbles from the pastry.
They help cook faster and more evenly without drying or overcooking, for crispy and tasty results.
The cooking plates are available in different materials
Stainless Steel
Ideal for storing, preserving and cooking, all with one tray.
Opposed to an aluminum tray, stainless steel trays are freezer and deep-freezer safe.
May be used without baking paper when cooking dry batter or a cake mix.
Stainless steel is easy to maintain and dishwasher safe.
Aluminium
To be used with an Airmat baking tray or non-stick baking paper/baking mat.
Do not store food in fridge or freezer on an aluminum tray.
Antiadhésif
Tray with non-stick coating: food doesn't stick.
May be used without non-stick baking paper, except for runny/soft dough.
Used for baking pies, quiches, pizzas, flamenküches...for golden and crispy pastry bases.
Perforations of Ø 10mm : shape, size and layout studied to optimize the circulation of hot or cold air.
Excellent heat and cold diffusion; very good temperature communication.
Thick, light and resistant plate.
The tart trays are available in different materials
Aluminium
Perforated aluminum baking and tart trays may be used with baking paper, sheets, or a baking mat when cooking runny pastry.
They may be used without baking paper when heating precooked or frozen pastry. 
Steel
For the pizza to slide right off when ready, coat the steel tray with flour before use.
Pro tip: rice flour is the ideal choice.
Non-stick
May by used on its own, without non-stick baking paper.
Our tart trays AIR SYSTEM
Ideal for chou pastry, bread dough and sweet crust.
Use mat on a perforated tray for best results. This mat is ideal for baking pies in perforated tart rings.
AIR SYSTEM concept: the ventilated fabric is ideal to get crispy crusts that don't turn soggy.
Silicone fiberglass fabric.
Non-stick, no need to grease with oil or butter.
Temperature range from - 55°C to +280°C. Freezer-safe.